Vancouver's Premier Fleet of Charter Vessels
Adding a touch of Magic to Vancouver yacht charters, wedding cruises, corporate events, Christmas/staff parties, dinner cruises & private boat charters for over 20 years!
With the finest fleet of charter yachts in BC, Magic Yacht Charters has two decades of experience hosting and planning events ranging from harbour cruises with small groups of close friends, to large-scale personal and professional functions for up to 375 guests.
Magic Yacht Charters' fleet is spectacularly located at the Westin Bayshore Marina in Coal Harbour; the Magic Spirit and the Magic Charm are sleek, updated and well-appointed luxury yachts uniquely suited to hosting an event that leaves a lasting impression, be it for business or pleasure.
Whether it's a once-in-a-lifetime Vancouver wedding cruise, a corporate conference, a dinner cruise, or just simply a cruise to soak in the sights of the Burrard Inlet and Indian Arm, our dedicated team - from the Captains, deckhands and office staff, to the Executive Chefs, kitchen staff and experienced servers and bartenders – will ensure that you experience nothing but smooth sailing on your voyage.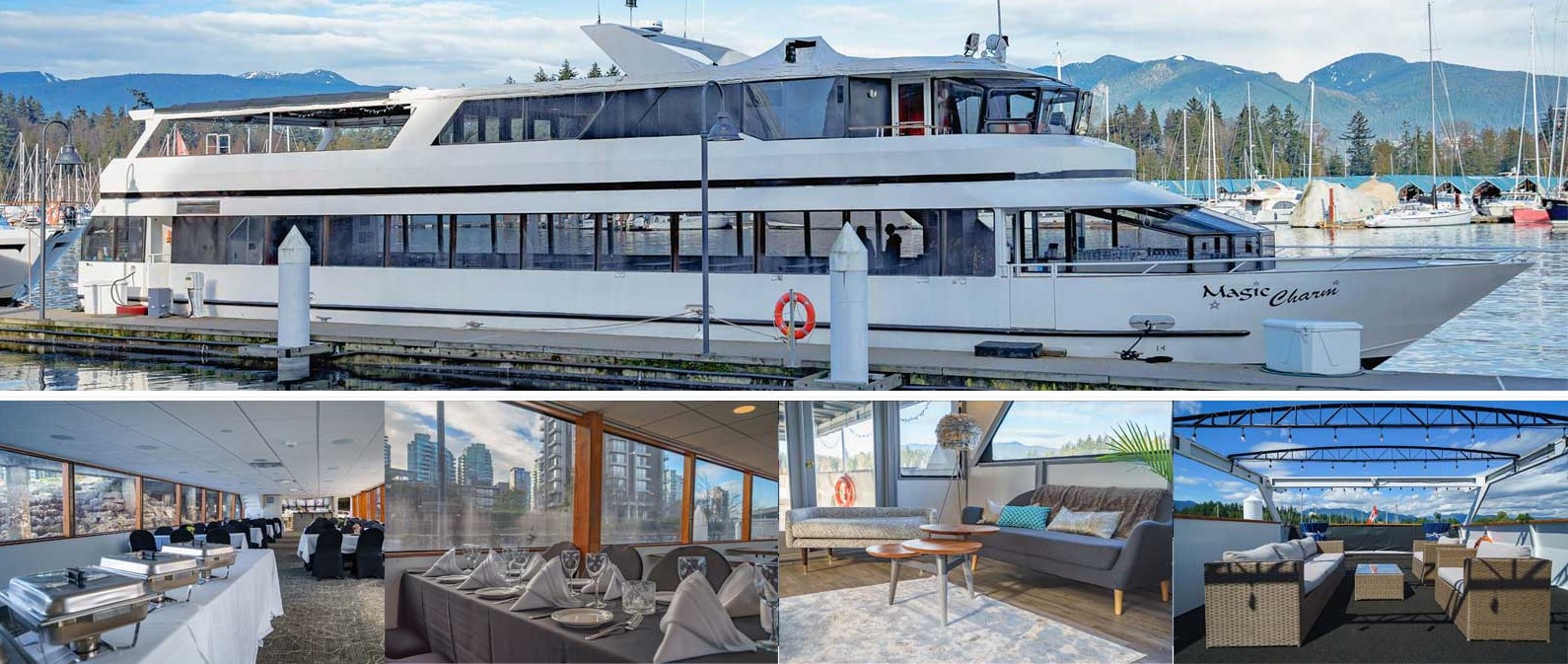 Contact us today to find out how we can work with you to turn your special event into something magical!
START PLANNING
OUR
FLEET
TESTIMONIALS
"
Me and my friends wanted to see the fireworks on the Magic Spirit in August. It was a very nice night, we liked the music, you can dance on the top floor, the food was great and the fireworks were amazing :) I enjoyed seeing the city with the lights at night, our route was cool. The staff was very kind and helpful, they tried their very best to make a good time for everyone. :) Recommended :)
"
Vessel: Magic Spirit| Date: August 08, 2019| Client: Gabriella Nemes
"
Our night was amazing! Your staff was super friendly. But everyone had such a wonderful time they wanted to stay longer after we docked. I would rent with you guys again for other occasions and I definitely will recommend your company if anyone else is looking to rent a yacht for an event. Thank you so much for everything you guys have done my night was unreal!
"
Vessel: Magic Spirit| Date: October 20, 2018| Client: Kat Poon
"
Thank you so much for another successful boat cruise! We have heard nothing but positive feedback. Your staff was incredible and the weather held out which was great. Many thanks!
"
Vessel: Magic Charm| Date: July 05, 2016| Client: Nina Cutler
Date: December 31, 1969| Client:
MORE TESTIMONIALS