Vancouver's Premier Fleet of Charter Vessels
Adding a touch of Magic to Vancouver yacht charters, wedding cruises, corporate events, Christmas/staff parties, dinner cruises & private boat charters for over 20 years!
With the finest fleet of charter yachts in BC, Magic Yacht Charters has two decades of experience hosting and planning events ranging from harbour cruises with small groups of close friends, to large-scale personal and professional functions for up to 385 guests.
Magic Yacht Charters' fleet is spectacularly located at the Westin Bayshore Marina in Coal Harbour; the Magic Spirit and the Magic Charm are sleek, updated and well-appointed luxury yachts uniquely suited to hosting an event that leaves a lasting impression, be it for business or pleasure.
Whether it's a once-in-a-lifetime Vancouver wedding cruise, a corporate conference, a dinner cruise, or just simply a cruise to soak in the sights of the Burrard Inlet and Indian Arm, our dedicated team - from the Captains, deckhands and office staff, to the Executive Chefs, kitchen staff and experienced servers and bartenders – will ensure that you experience nothing but smooth sailing on your voyage.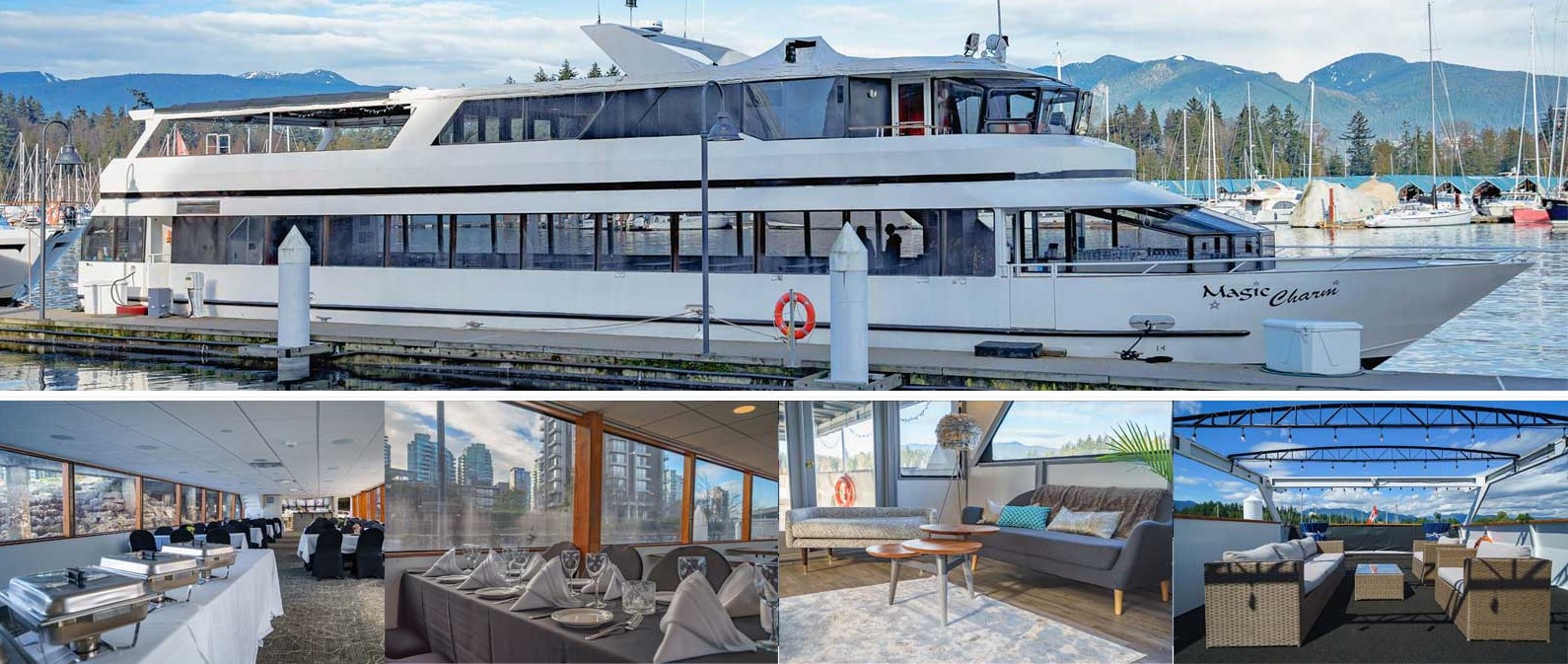 Contact us today to find out how we can work with you to turn your special event into something magical!
START PLANNING
OUR
FLEET
TESTIMONIALS
"
Me and my friends wanted to see the fireworks on the Magic Spirit in August. It was a very nice night, we liked the music, you can dance on the top floor, the food was great and the fireworks were amazing :) I enjoyed seeing the city with the lights at night, our route was cool. The staff was very kind and helpful, they tried their very best to make a good time for everyone. :) Recommended :)
"
Vessel: Magic Spirit| Date: August 08, 2019| Client: Gabriella Nemes
"
Thanks Magic Yacht Charters for making our 2019 boat cruise the best one to date! The food impressed our guests, and we are so thankful that Alicia and the staff were able to accommodate the many changes we made on such short notice to ensure that our event was as good as it could be. The space was nice and all parts of the boat were utilized, from the patio furniture on the decks to the nice furnished area inside. Thanks so much for making us look good!
"
Date: August 07, 2019| Client: Kim Herrera
"
Our Department Staff Social had a great time. Magic Yacht Charters made the entire experience from the first stages of booking to the actual event very easy and enjoyable and we were able to relax and socialize without any hassles. We highly recommend this company and we look forward to utilizing their services again in the future.
"
Date: July 24, 2019| Client: Vanessa Legs
"
Our event was on June,15 2019, the day after wedding party, we had over 140 guests mostly from U.S. Both Lauren and Alysha were extremely professional and helpful throughout the whole process, great service and the tasteful food (Tenderloin and Sushi bar) were beyond expectation, drinks, coffee, tea and deserts were served the whole time, sound system was just perfect for dancing and no need for D.J. Our guests were overjoyed and we were pleased with the service and accommodations we received. We have great memories to cherish forever.
"
Date: July 15, 2019| Client: Nasrin Rouintan
MORE TESTIMONIALS